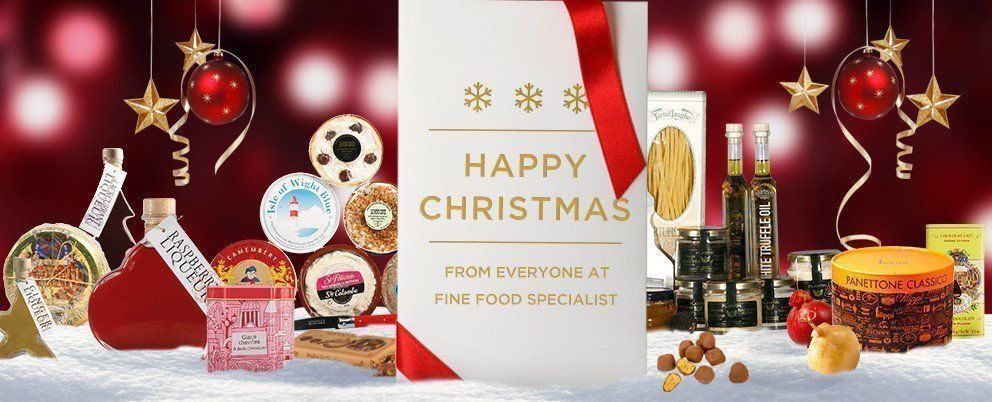 Stocking Fillers
Fine food can be a thoughtful gift to give during the festive season, especially to those who are curious about discovering flavours from all around the world. So if you're looking for Christmas gift ideas and are on the lookout for stocking fillers, there's plenty to choose from below.
At Fine Food Specialist, we are proud to provide you with the finest selection of food gifts that'll go down a treat in everyone's stockings on Christmas morning. Whether you're looking to cater to someone's sweet tooth or introduce them to some exotic new flavours, you'll be sure to find the ideal stocking filler in this range.
Tis the season
There's no better time to indulge your senses than during this magical time of year and what better way to do so than with some exquisitely sweet stocking fillers? Treat your family to a selection of sweet sensations, including:
Chocolate coated glace cherries

Salted caramel and chocolate marshmallows

White chocolate pistachios

Chocolate dusted almonds

And much more
We only stock confectionery from high quality brands such as Artisan Du Chocolat or Mellow Mallow. Perfect for making a big impression with a little gift.
Kitchen essentials
For those who love to experiment in the kitchen with flavours, ingredients and spices, we have a selection of condiments to complete any dish. Help your foodie friend to capture the warmth and joy of Christmas through taste. We recommend crunchy dried capers for a delightful kick, walnut oil to add aromatic notes and truffle salt for a taste of luxury.
Delightful duos
Within our range of stocking fillers, you will also find a selection of complementing sets that make for ideal Christmas gifts. For the caviar enthusiast, choose from our caviar taster sets in an array of unique flavours.
What is Boxing Day without cheese and crackers? Complete your food themed gift of Christmas cheeses with a selection of artisan crackers, flavoured for the festive season.
Stocking fillers can be a wonderful way to express your appreciation, so why not show your love with food gifts from Fine Food Specialist? We offer free next day delivery on all orders placed before 11am during the week, so you can get your gifts in time for the special day. Please note that the last day for delivery before Christmas is 21st December at 11am.

Click here for more information, features & recipes
ORDER BY 11AM TODAY TO BE ELIGIBLE FOR NEXT DAY DELIVERY