Toggle Nav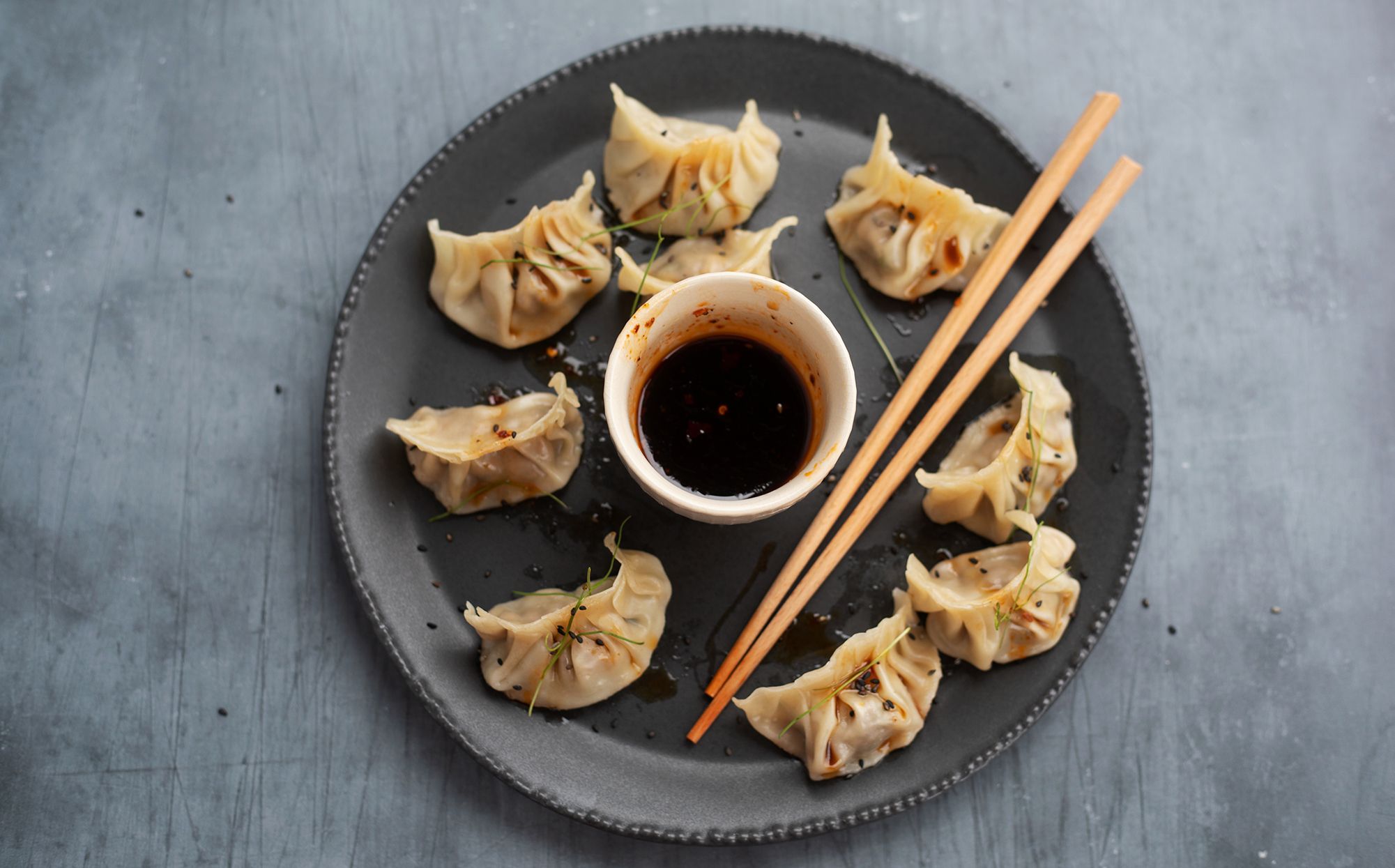 Prep Time : 25m
Cooking Time : 20m
Servings Number : 4 - 5 people
Autumn is a fantastic time of year to delve in British game such as wild deer. The gamey taste of venison stands up well to strong flavours and is an incredible filling for these dumplings! The shiitake mushrooms can be found year-round and add another layer of umami richness.
200g venison mince
Handful spring onions chopped
1 inch ginger grated
2 cloves garlic finely minced
½ tsp brown sugar
2tsp sesame oil
2tsp Shaoxing rice wine vinegar
Sunflower oil
Sesame seeds to garnish
Chilli oil (optional)
Finely chop the spring onions and shiitake and place into a large mixing bowl. Grate in the garlic and ginger. Add the venison mince, sesame oil, soy sauce, Shaoxing rice wine vinegar, and brown sugar. Season with salt and mix (you could also blend into a sticky paste with a food processor) Cover and place in the fridge to chill until you are ready to make the gyozas.
Prepare a bowl of water. Place a gyoza wrapper in your hand and add a heaped teaspoon of filling into the centre. Brush water along the edge of the wrapper with your finger and pinch pleats along one side until the gyoza is completely sealed. Repeat until you have used up all the filling (the recipe should make at least 20). The gyozas can be placed in the fridge or freezer until you are ready to cook.
Heat up a pan of water and place a bamboo steamer lined with baking paper on top. Carefully place about 4-5 (depending on how large your steamer is) and let cook for 15-20 mins.
You can also fry the gyoza in a pan with a dash of sunflower oil for a few mins and then add a splash of water before placing the lid on to steam for 6 mins.
While the gyozas steam, pour the gyoza sauce into a dipping bowl and add half a teaspoon (or more depending on your spice tolerance) of chilli oil. Once the gyozas are cooked, remove from the steamer and place on a plate. Garnish with sesame seeds and garlic chives. Serve immediately with the dipping sauce.