Toggle Nav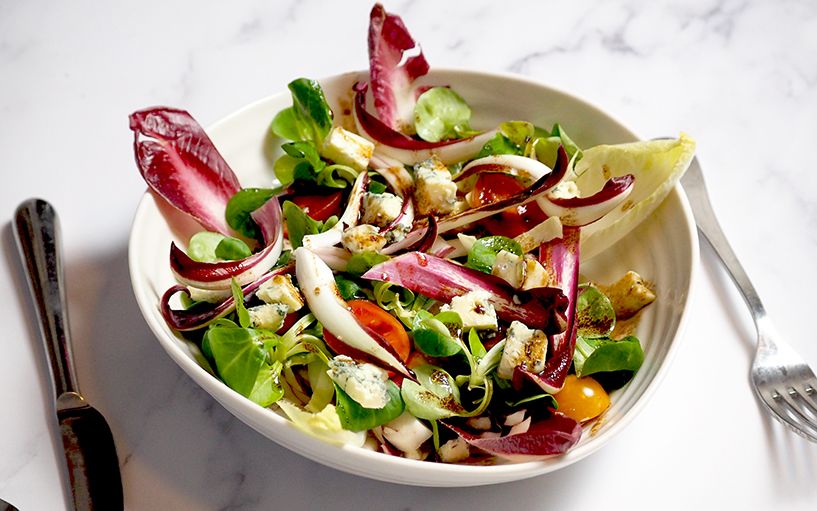 Prep Time : 15m
Cooking Time : 0m
Servings Number : 2 people
This salad is packed with delicious, fresh Italian salad leaves and a sprinkling of crumbled blue cheese, served with a balsamic vinaigrette. The bitter flavour from the chicory and leaves is counteracted by the sweetness of the balsamic vinaigrette, and the crunchy texture of the leaves is balanced with the crumbly soft stilton cheese. Quick and easy to make, this salad is a winner for summer evenings, best served with a chilled glass of rose.
Cut both your red and yellow chicories down the middle to remove the root. Chop the remaining leaves roughly and add to the salad serving bowl. Add the lambs lettuce and combine so that the leaves are evenly spread.
ice the Tardivo Raddichio into fingers. Dice the blue cheese and halve the tomatoes. Add the tomatoes to the salad - the more coloured tomatoes the better! Now the vinaigrette can be prepped - add balsamic vinegar to a bowl and a pinch of salt to make up the base of the sauce. Slowly add olive oil and whisk into the bowl to combine. Sprinkle the chopped stilton and scatter on top of salad. Drizzle the dressing onto the salad. Enjoy!