October brings a selection of comforting autumnal flavours in earthy mushrooms, sweet pumpkins and heartier greens such as chicory and watercress. We stock some of the most exciting varieties of fruit and vegetables available including hard to find Vitellotte purple potatoes, fragrant Muscat grapes and a pumpkin that's nurtured, heat-cured and stamped with a special marker of quality - definitely not one for carving into a Halloween lantern! Read on to find out which varieties of specialist vegetables are at their peak right now.
Which vegetables are in season in the UK in October?
Jerusalem and Globe Artichokes
Although they share a name, Jerusalem and globe artichokes couldn't be more different. Globe artichokes are a member of the thistle family, and are prized for their unique flavour. Pare baby artichokes well before steaming and eating whole. Larger globe artichokes can be steamed and the leaves nibbled individually, as you slowly work inwards to the tender heart. Artichokes make a great starter served whole with a classic vinaigrette for dipping or stuffed with breadcrumbs, herbs and cheese.
Jerusalem artichokes on the other hand resemble a scaly potato and make a great alternative starchy vegetable right through until spring. Actually a species of sunflower, their nutty sweetness is perfect blended into a creamy soup or baked into a gratin with Reblochon cheese and truffle oil.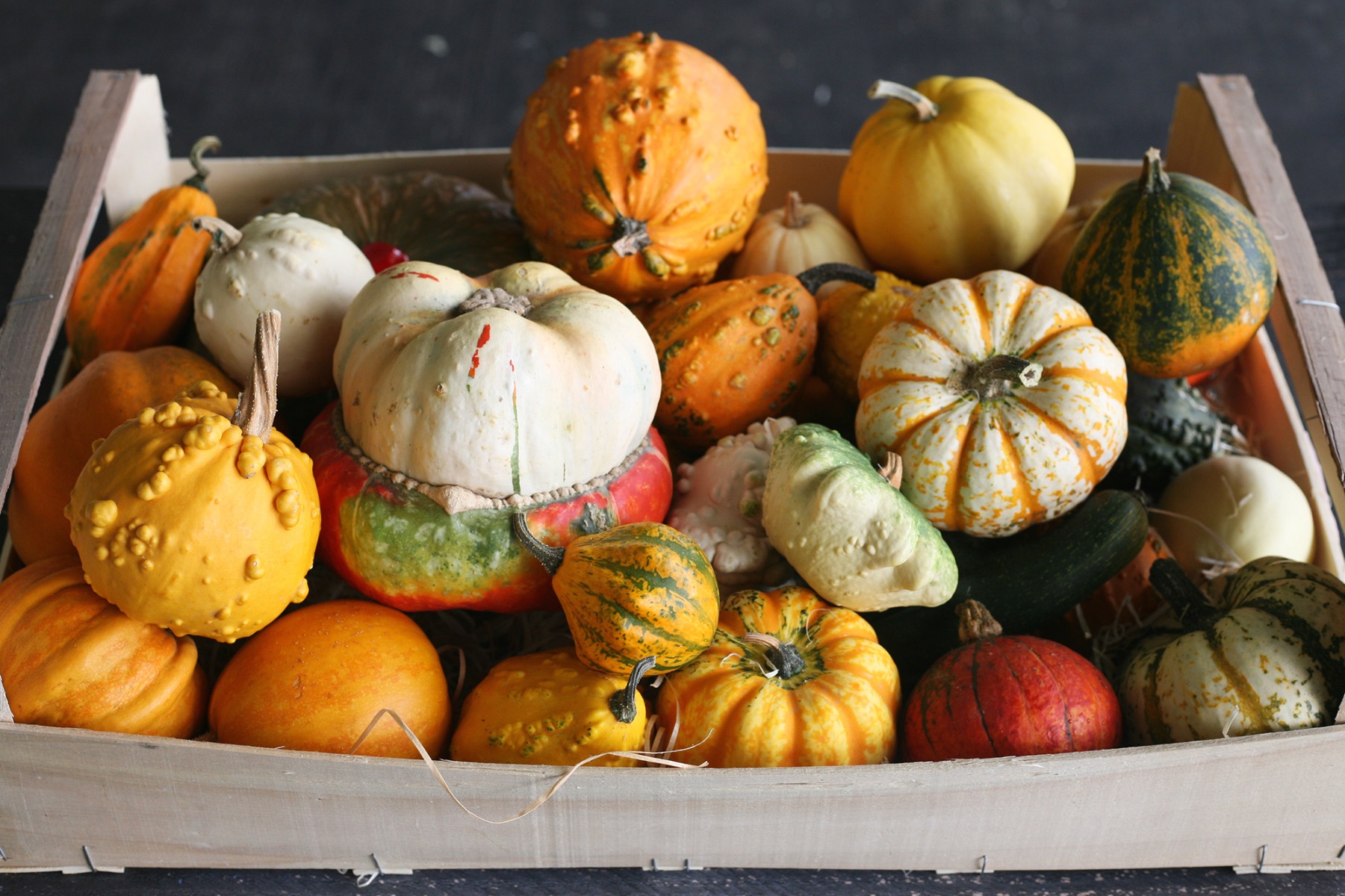 Squashes
Cheerful, knobbly squashes bring colour to the autumn table with their bright skins and sweet flavour. Pattypan squash resembles a miniature flying saucer with its tapered, scalloped edges and is best roasted and stirred through salads or served as a side dish. Less watery than larger vegetables from the same family such as courgettes, both yellow pattypan squash and green pattypan squash are unusual and versatile autumnal vegetable options.
The Delica Zerbitani squash is a pumpkin from the Lombardy region of Northern Italy. Its flesh is prized for its sweetness, thanks to the Zerbitani family's commitment to reducing the water content of each pumpkin, therefore intensifying flavour. Each pumpkin is then slowly cured in a room heated by a wood-fire, which intensifies the sugars meaning they caramelise perfectly when cooked.
We also sell a variety of ornamental squashes, which make a unique and beautiful centrepiece for a table or any room in the house which needs an autumnal touch!
Vitelotte Purple Potatoes
We don't just sell any old potatoes at Fine Food Specialist. Vitelotte purple potatoes originate from Peru and Bolivia but are now cultivated in France and prized for their striking colour, which remains after cooking, and their nutty flavour. Try boiling them and serving with plenty of truffle butter or frying into chips.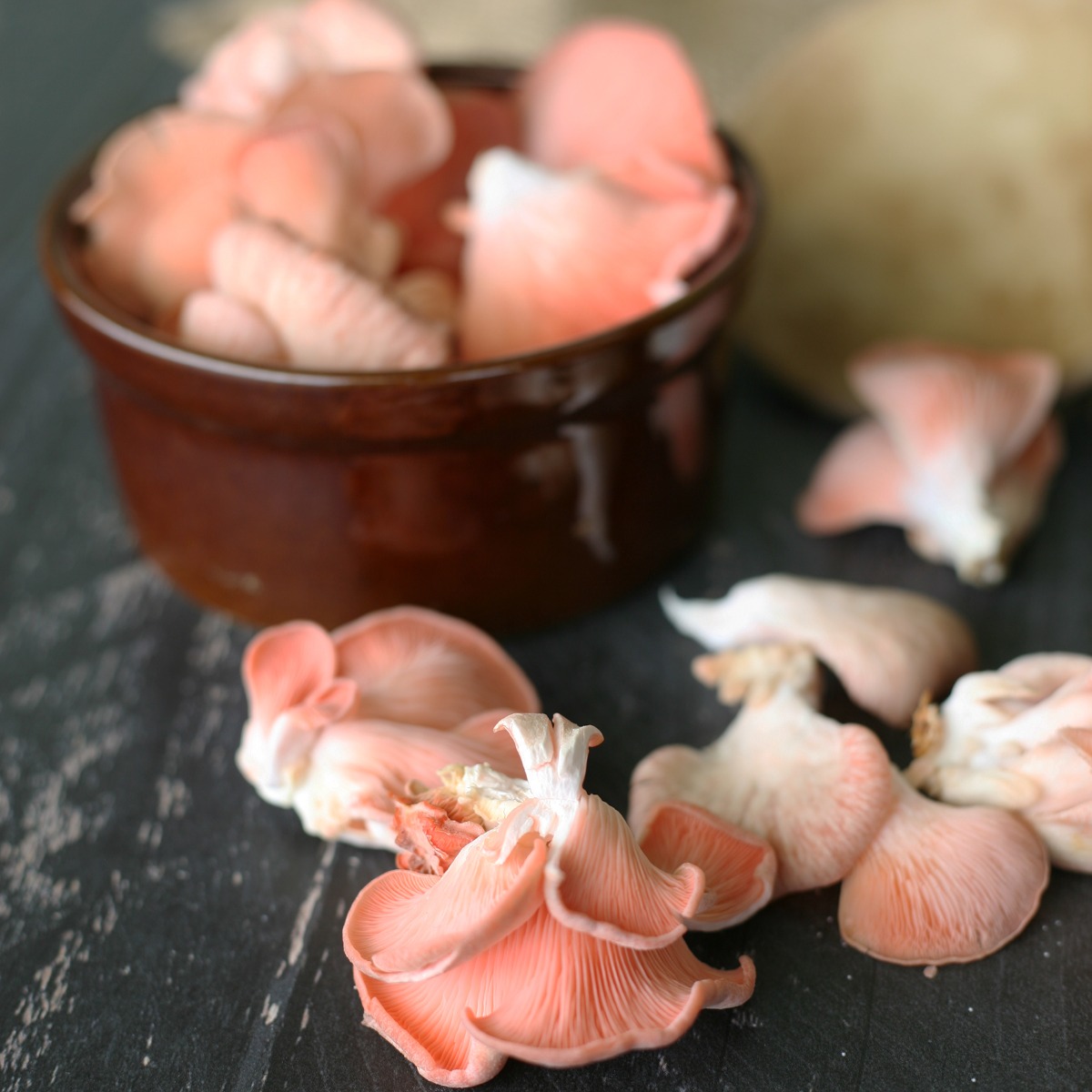 Mushrooms
Autumn is the time when most varieties of mushroom come into season. An easy way to add a touch of luxury to dishes from breakfast through to dinner, earthy mushrooms come in so many different shapes and sizes. Some of our favourites include the meaty King Oyster mushroom, which works well sliced and grilled, beautiful golden girolles and delicate, frilly pink oyster mushrooms.
Our guide to cooking with mushrooms.
Our guide to cooking with truffles.
Salsify
A member of the dandelion family, it's easy to pass over salsify thanks to its appearance, which is very much that of a muddy brown stick. Don't be fooled, however, as this unusual root vegetable has excellent flavour, a little like an oyster, hence it's sometimes referred to as the oyster plant. Delicious prepared simply boiled, it also makes a lovely addition to a gratin with cream and Parmesan.
Beetroot
Beetroot is loved for its earthy flavour and versatility - use them raw, sliced thinly in salads, baked or roasted, or pickle them to preserve for the rest of the year. At Fine Food Specialist, we stock several varieties, including baby beetroots which add bright crunch to snacks and salads (try baby golden beetroots for an eye-catching variation), candy beetroots which make a pretty, stripy addition to salads and golden beetroot, which are appreciated for their mild flavour.
We also stock Cheltenham beetroot, a long-rooted variety shaped like a carrot, which has deep scarlet flesh and a sweet flavour. Beetroot is often served with a contrasting sharp, salty flavour such as goat cheese, and is delicious roasted to caramelise the natural sugars.
Chicory
Chicory is a lightly bitter leaf that brings welcome colour and interest to salads during the colder months. Red chicory is lovely lightly charred or roasted, which brings some sweeter notes and is delicious served in a salad with cheese such as Stilton, or with sweet fruits like pears. White chicory has a more delicate appearance, and is excellent braised in stock and white wine, or caramelised in bacon fat.
Horseradish
Fresh horseradish is a must alongside rare roast beef or in a salad of smoked mackerel and the fresh root is much more powerfully flavoured that the stuff that comes in a jar. Take care when preparing this root by wearing gloves and keeping a window open - we're not joking when we say it's hot!
Kohlrabi
This alien-looking vegetable has a round body covered in shiny skin and long, edible leaves. Remove the skin from kohlrabi to reveal crisp, white flesh which has a light turnip-like flavour that's perfect for shredding into salads for fresh texture or pickling as you would a radish. It's also delicious cooked; a member of the brassica family its lightly cabbage-y flavour can be steamed or roasted and the leaves are lovely wilted down as a side dish.
Baby Leeks
Our baby leeks are so tender they barely need any cooking at all. Young, sweet and soft they are handpicked for us in Paris's Marché de Rungis and are guaranteed to be of the finest quality. Baby leeks match easily with so many ingredients including fish, meat and cheese. Try them steamed and served with a poached egg and truffles, or blanch very briefly and use to top a puff pastry tart.
Radishes
Radishes are enjoyed as much for their fresh, crunchy texture as they are for their peppery flavour. At Fine Food Specialist our favourites include breakfast radishes, which are so pretty with their pink and white skins and are lovely served simply with salty butter and bread. Rainbow radishes bring colour and interest to salads and can also be blanched or roasted for an unusual side dish.
Larger radishes such as the black radish have a sharp flavour and must be peeled; the black skin is not edible. Our favourite variety of all just might be the watermelon radish, however - a round variety with a pretty pink centre, they're a favourite of chefs when sliced thinly on a mandolin. Try serving them with goats' cheese or in Middle Eastern style salads with a tahini dressing.
Turnips
Turnips have come back into fashion in recent years and are particularly prized by chefs, who serve them roasted as a garnish to deeply flavoured meat dishes or sauteed with their own leaves. Baby turnips are perfect for this - tender and fresh, their leaves still intact. Tokyo turnips are another popular variety, which is delicious roasted with miso.
Cavolo Nero
This Italian winter leafy green has long leaves, and a dark colour, hence the name cavolo nero which translates from Italian as 'black cabbage'. Its irony flavour makes a robust side dish to strongly flavoured meats such as game, or as an ingredient in richly flavoured dishes such as wintry broths, stews or pasta dishes.
Watercress
Watercress is a superb salad leaf with soft leaves, crips stalks and an intense peppery flavour. It works very well in salads but also adds bags of flavour and crunch to a simple sandwich of rare roast beef or egg mayonnaise. Dress it with a Caesar style dressing made with anchovies, blitz it into a vibrant soup or whizz it into a 'pesto' to stir through pasta or serve with grilled fish or light meats such as chicken.
Which fruits are in season in the UK in October?
We stock a range of hard to find, exciting specialist fruits, too. Here's what's good to eat in October.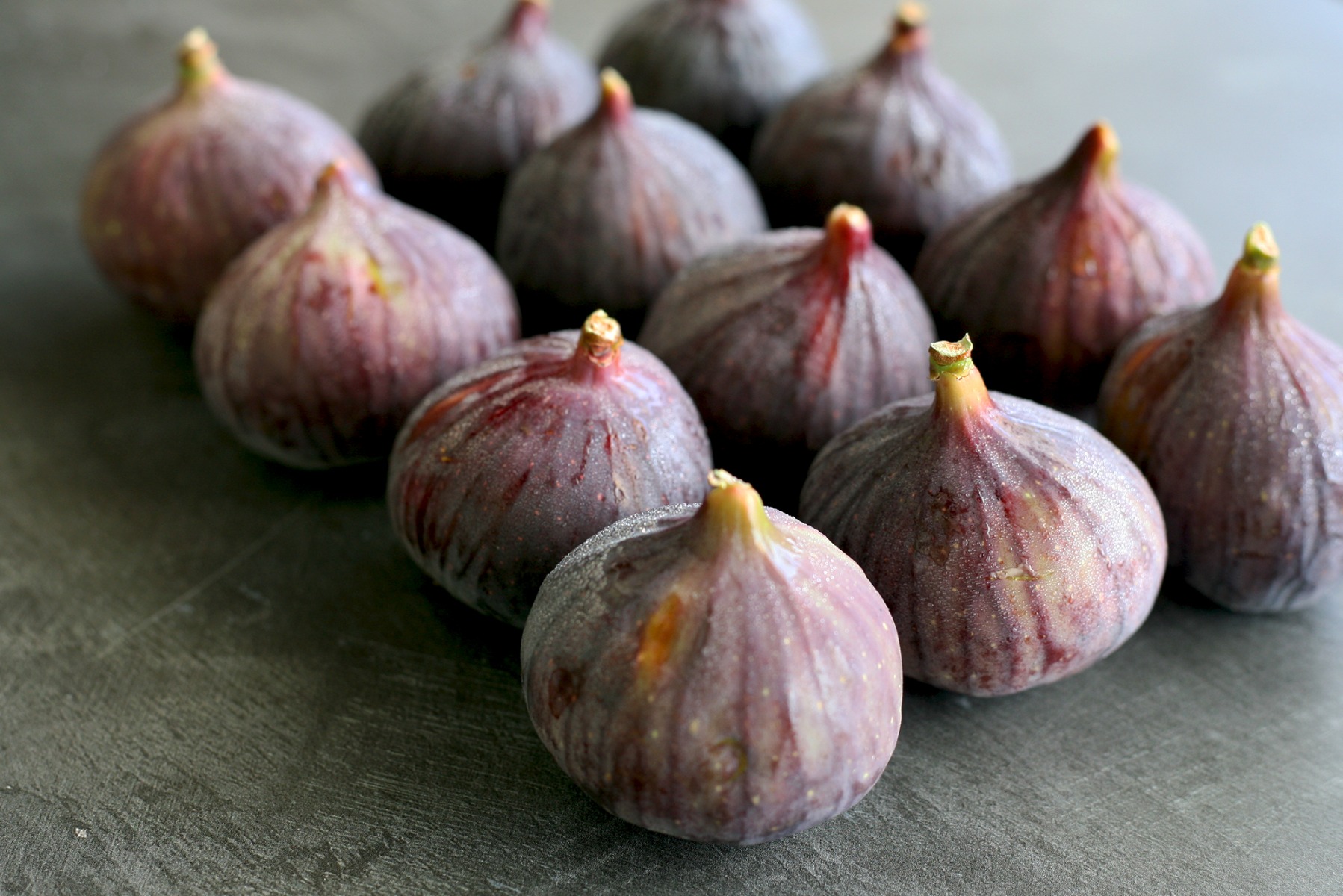 Figs
The sweetest figs of all are ready to eat at this time of year; once you've tried a properly ripe fig, carefully selected by our team, we promise you will never look back. Their sweet, caramel flavour works best with salty ingredients like cheese - try cutting a cross in the top and stuffing them with goats' cheese or blue cheese like stilton before roasting. Wrap in pancetta for an extra dimension and grill the stuffed figs on a barbecue. They're also delicious cooked down with honey and spices for use on breakfast yoghurt or vanilla ice cream.
Grapes
Not all grapes are created equal, and the Muscat grape is one of the best. Already well known for its use in winemaking, many don't realise that it's an excellent table grape with a rich, perfumed, floral flavour and dark plum coloured skin. Try serving as part of a cheeseboard or baked into a clafoutis for a fun twist on a classic dessert.
Quince
One of the most intriguing, fragrant fruits, quince is best known for making membrillo, an orange paste usually served with Manchego cheese. It's great in many dishes, however: poached with vanilla and spices to make a dessert, served with rich meats such as duck, or as a glaze for grilled or roasted pork.
Shop for what's in season now.