Iberico Pork
The pork equivalent of Wagyu Beef, Iberico pork is an established favourite amongst fine food enthusiasts around the globe. Fine Food Specialist is thrilled to offer you a splendid range of fresh and frozen Iberico pork items, all of which can boast that incomparable Iberico taste. Look forward to a distinctly luxurious flavour that, once tried, simply has to be repeated, again and again.
All of our fresh Iberico Pork products come from award-winning company Juan Pedro Domecq. This family-owned company has been breeding 100% pure Iberico pigs for five generations, and is one of the only brands that is legally allowed to use the '100% Iberico' label in Spain. Iberico pork from Juan Pedro Domecq is truly special due to the family's dedication to supplying only the best meat possible. The pork comes from racially pure black Iberico pigs who feed on acorns for a minimum of two seasons, which is where the unique and rich flavour comes from. The time they spend roaming the Spanish country side is at least twice as long as regular Bellota pigs, which also contributes to the quality of the pork. We have many different cuts of Iberico for you to choose from, and none will disappoint!
Say Adios to bland, tough pork meat
Iberico pork meat is from 'Pata Negra' (black footed) pigs from Extremadura in Spain. The pigs are specially bred and, once fully grown, possess a high fat content. This only adds to the delightful tenderness of Iberico pork loins: a tenderness that even the most discerning fine food connoisseur cannot help but be impressed by.
The nutty flavour that Iberico pork is also globally renowned for? That comes from Pata Negra pigs being fed on acorns throughout their lives. You're going to love this: the flavour, the texture, the melt in the mouth sheer joy of it all, the aftertaste... If you adore pork but you've yet to sample Iberico pork, you'll wonder why you haven't given it a try sooner. This free range and acorn-fed pork reared in Spain is versatile, too. As chops, mince, burgers, thin or thick slices accompanied by suitable vegetables... there's so much you can do with Iberico pork, so much to savour and feel satisfied by.
Acorn-rich goodness means no spices are required
One thing to avoid is going overboard with sauces, herbs, dressings etc. Why? Because Iberico pork simply doesn't really need anything extra; well, except perhaps for a slight pinch or a very fine sprinkling. That's all down to the meat's acorn-rich flavoursome goodness. The black pigs absolutely gorge on acorns in their forest habitat, making delicious fine foods such as Iberico pork chops and other types of cuts easy to prepare: culinary treats that are immensely enjoyable to eat once properly cooked, just as they are.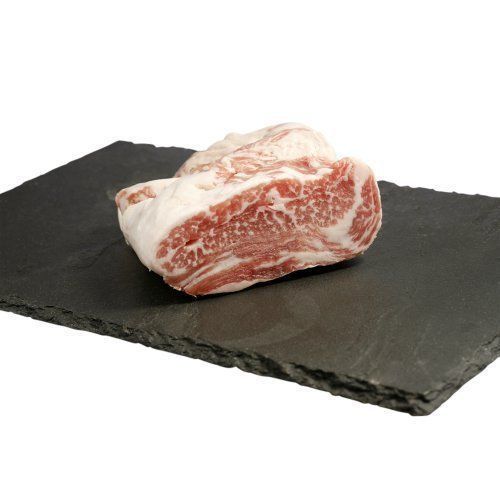 Click here for more information, features & recipes
ORDER BY 11AM TODAY TO BE ELIGIBLE FOR NEXT DAY DELIVERY