Caviar
Our Caviar category includes a full selection of the very best in caviar (a delicacy consisting of salt-cured fish-eggs) when it comes to taste, type, colour and size. These globally sourced products are always beautifully packaged and presented, making them an enticing personal treat or a delightful surprise gift for someone special.
From individual pots to trio taster sets and the fabulous Fine Food Specialist caviar range has something for everyone. What's more – as well as providing joy for the palate – different types of caviar also possess various health benefits, as they are plentiful with essential minerals, vitamins, oils and proteins.
For centuries, caviar and sturgeon products have been popular with chefs, gourmands and foodies all over the World. Caviar is also something connoisseurs love to discuss at length: the various types, the after tones, the robustness of taste, the strength and subtlety of colour, and also the history...
Sadly, due to over-fishing, unsustainable harvesting, and illegal caviar trade, sturgeon population has dramatically depleted. After a ruling by CITES (The Convention on International Trade in Endangered Species) a world-wide ban on wild caviar trade was implemented in order to prevent any further over-exploitation of sturgeon stocks.
Due to this universal ban, there is no wild caviar legally available in the UK, therefore our caviar at Fine Food Specialist is sourced from various farms of the highest quality and consistency, from Iran, Italy, China and elsewhere. The farms from which our caviar is sourced use innovative techniques to ensure correct biological farming as well as the sustainment of the sturgeon species.
Caviar to suit all budgets
Caviar is renowned for being the ultimate in gourmet dining luxury, and those that we offer come in a range of types, sizes and prices, with there being something to suit every preference and budget. Likewise, our popular alternative caviar options are also a fantastic equivalent (convincing even the most experienced caviar aficionado).
Enjoy browsing our range of genuine sturgeon and alternative caviar, as well as the beautifully presented caviar-related products, and then simply take your pick! Our mother of pearl spoons are ideal for enjoying our highest grade Royal Beluga Huso Huso and other caviar alternatives. The ultimate dinner party luxury, these stunning, hand-crafted products are the perfect serving accompaniment for your caviar!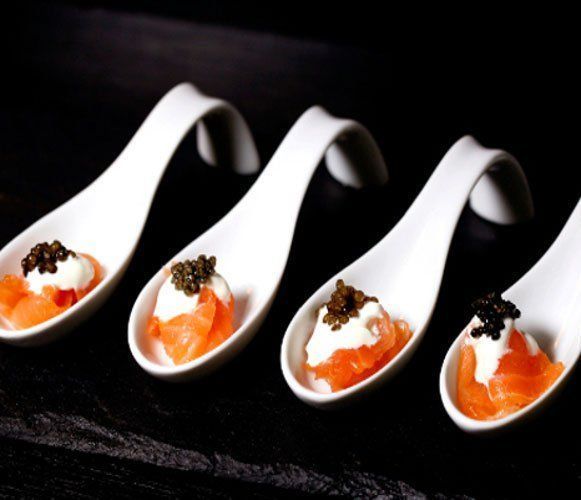 Click here for more information, features & recipes
ORDER BY 11AM TODAY TO BE ELIGIBLE FOR NEXT DAY DELIVERY