Truffle
For the ultimate in fine food indulgence, it's difficult to beat truffles. For centuries truffles have been one of the most prized ingredients in the culinary world. Despite some attempts to harvest and cultivate them, it is the wild truffles which are more commonly favoured by gourmands, chefs and foodies alike. At Fine Food Specialist we offer a fantastic array of diverse fresh truffles and truffle products, suited to any budget.
Truffles – "the diamond of the kitchen"
Previously described as the ''diamond of the kitchen'' both black and white truffles are treasured in the culinary world. They are extremely hard to find (usually by specially trained dogs or pigs), and notoriously hard to cultivate whilst boasting a rich unique flavour. Our range varies in price depending on the colour, type or size of truffle and we offer truffles to suit all occasions…
Which type of truffle are you specifically looking for?
Look no further as our expertise and passion for all things truffles has resulted in our diverse assortment of truffles and truffle products. The most desirable varieties of the black truffle (Tuber Melanasporum) we offer is the winter truffle, like the Perigord (originating from France), or other varieties foraged in Italy. These winter varieties are rich, aromatic and a nose stronger in flavour than the autumn or summer black truffle. Even more indulgent and prized in the culinary world is the white truffle or Tuber Magnatum, which is harvested from September to December and boasts the most flavoursome and pungent flavour of all varieties. The Alba White Truffle or Tuber Magnatum Pico, originating from the earthy hills in the Alba area of Piedmont, Italy, truly is the jewel in the crown. Heralded as the ''King of Truffles'' it is famed for its pungent and aromatic flavour, and is usually served fresh as it is so delicate.
Similarly, our truffle products make a perfect accompaniment to our fresh truffles which lend their flavours to dishes like risotto and pasta or even work well in sauces and salads. From truffled salami, to truffle salt to truffle honey, we have sourced a broad range of wonderfully delicious and tempting products which will add the unique and aromatic flavour of truffles to your dishes for any occasion. Yet it is our truffle oils which have become our most popular truffle product due to their versatility and earthy, rich flavour when infused with only the best quality extra virgin olive oil.
Items can be bought individually or in sets so for the whole truffle experience, opt for the Full Truffle Indulgence Experience Hamper, where our luxurious and utterly delicious truffle products are presented exquisitely.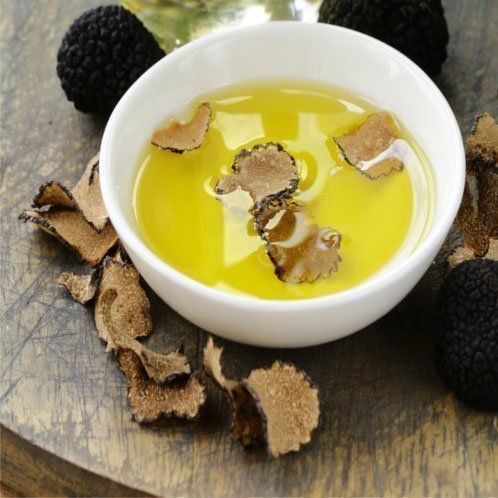 Click here for more information, features & recipes
ORDER BY 11AM TODAY TO BE ELIGIBLE FOR NEXT DAY DELIVERY