Here at Fine Food Specialist, we are passionate about high quality food and we are especially excited about our collection of specialist lamb. We have sourced the finest premium cuts of lamb from Cornwall and France for our customers to enjoy. Lamb is a delicious choice year-round, but it is at its peak during the spring time, it is also a traditional choice for Easter. You can't ever go wrong with a Sunday roast dinner of lamb, and there are plenty of specialist lamb fresh and frozen products for you to choose from. Read our ultimate guide to learn more about how to choose the best cut of lamb, plus we have a few delicious lamb recipes for you to try.
A Guide to Lamb Cuts
Lamb is a very popular option in many cuisines, recipes, and is ideal for a variety of preparation methods and cooking techniques. Each cut of lamb offers something a bit different in terms of texture, taste, and optimal cooking time. Here below is our guide to all our specialist cuts of lamb to help you decide:
The shoulder is a great cut that is best for slow-cooking and is used in a variety of different cuisines around the world. The shoulder is packed full of flavour as it is one of the most worked part of the animal. This cut is best for slow-cooking as it will take some time for the meat to become tender. Roast for several hours with garlic and rosemary until pull-apart tender or you can add to an aromatic spicy stew. Check out our slow-cooked recipe for lamb shoulder here.
These tend to be the most expensive cuts of lamb due to their impeccable flavour. You can roast or grill lamb cutlets, and they are best served pink to maintain their tenderness. We offer whole racks or individual chops depending on your occasion and quantity needed. We have a great range of chops for you to choose from
Also known as T-bone chops, these are a great choice for barbequing. Cut from the waist of the lamb, this section of meat includes both the loin and fillet – meaning you get the best of both. These are tender and very tasty.
This cut comes from the back of the lamb and is very flavourful. The rump tends to be slightly leaner than other cuts and is best served pink to avoid overcooking it. You can cut it into chops to grill or pan-fry whole and finish in the oven.
The leg meat is the most popular choice thanks to its high meat to bone ratio. The dark meat of this cut benefits from the bone running through to keep it tender and juicy. It's also the part of the lamb that works the hardest, which in turn imparts great flavour. Leg meat is quite versatile and can be kept simple as roasting centrepiece studded with garlic and rosemary, but can also keep up with richer flavours too.
Rolled lamb loin or saddle joint is a stunning section of the lamb that is tender and delicious. This specialist cut is perfect for a family roast dinner. Take care not to overcook, as the meat is best served slightly pink in the middle. Marinate with aromatic herbs and garlic or stuff and season well, and let rest before carving.
Noisettes are a gorgeous lamb option and we offer both the full joint and medallions for an elegant dinner party option. This specialist cut comes from the lumbar region of the saddle which is a lean section of the lamb. The meat is tender and flavoursome, and is great for a quick roast dinner. We have a fantastic recipe for your to try from Drogo's Kitchen here.
In addition to all the other fantastic cuts of lamb we also sell lamb offal such as liver, heart, tongue, and sweetbreads. Offal is featured in many cuisines around the world as it is a great way to make the most of the whole lamb, and offers a variety of different textures and flavours that are fun to experiment with. Lamb hearts are great stuffed and braised, and the flavour is quite mild. Liver is a very delicious option and is best cooked for a short time to keep the meat tender and soft. Tongue is a real delicacy and is best slow-cooked or brined to help break down the toughness, but once prepared properly is quite meaty and less offal-like in flavour. Sweetbreads are another popular option, they are creamy and delicate in flavour – check out this recipe here.
Peak season: June – November
Lamb is available year-round and we sourced ours from PGI certified farmers in Cornwall. This lamb is high quality and we offer a great variety of delicious specialist cuts to suit your occasion and preferences. Springtime is when the lamb are being reared and by summer the lamb is truly at its peak. Below are some of our popular lamb options:
Lamb cannon, also known as the loin fillet, is one of the best lamb cuts for roasting as it is quite lean. The meat is tender and won't need long in the oven either! We'd recommend seasoning and searing in a hot pan before.
Lamb leg is always a great option for a Sunday roast dinner. The leg meat is juicy and tender and can slow-cooked with herbs or roasted for less time and served slightly pink in the middle. This is a very versatile cut of meat and goes well with a variety of seasonings and is a great all-rounder cut of lamb.
Lamb rack is one of the best cuts and is very popular. It's always a great dinner party centrepiece, grilled whole and served with seasonal produce. A whole lamb rack can take 20-30 mins to cook and is best served pink in the middle to keep the meat tender. For seasoning, we'd recommended keeping it simple and classic with a rosemary and garlic marinade.
Lamb noisette is a beautiful joint that is great for quick roasts. Noisette means "little nut" in French and is a fantastic option either marinated and roasted whole or sliced into medallions and pan-fried and serve with Spring vegetables.
Lamb saddle rolled joint is a traditional cut of meat that is always a great option for impressing a crowd. The meat is surrounded by a layer of fat which keeps it moist and succulent.
Lamb shoulders require slow-cooking methods such as braising or stewing to allow the muscles in the meat to relax and tenderize. We have a great recipe for
In season: November – June
Only available during certain period from a small number of Pyrenean farmers. This lamb truly is the best and is used by top UK restaurant when in season, and is difficult to find anywhere else. The lambs are born in the mountains and suckle on their mother's milk. The result is a beautifully tender lamb product that is delicate in flavour and wonderfully tender. Here are all the milk-fed Pyrenees lamb product we stock:
Milk-fed Pyrenees lamb coffre is a delicious cut of meat from the ribs and best end of the lamb that offers soft and delicate flesh.
Milk-fed Pyrenees lamb roti is one of our finest specialist joints. The best part of the lamb deboned and rolled into a joint ready for you to cook with. Sear and pop in the oven to finish.
Milk-fed Pyrenees whole lamb is a great option for a big crowd. This is a great way to enjoy the whole lamb, and you can break down the individual to cook separately yourself. Take a look at Drogo's Kitchen for our favourite lamb recipes.
Milk-fed Pyrenees lamb culotte offers some of the most tender meat that comes from the hind legs of the lamb. This cut is ideal for a quick roast to serve two and the meat is just so delicate and flavourful!
Milk-fed Pyrenees lamb shoulder is another great option ideal for slow-roasts. Marinate and let the meat cook until fully tenderised and falling off the bone.
Milk-fed Pyrenees lamb racks are so succulent and delicious – these are some of the best lamb racks you will taste! Grill whole for an impressive sharing course.
- Frequently Asked Questions -
What does PGI mean?
PGI stands for Protected Geographic Indication and is an EU scheme that protects traditional processes and names of food products. PGI status products originated in a certain region process for the award is fairly rigorous to ensure that high standards of excellence are upheld. At Fine Food Specialist we supply a great variety of PGI certified Cornish Lamb for our customers to enjoy.
Where does your lamb come from?
We source our lamb from Cornwall and France, ensuring only the highest quality for our customers.
What is the best cut of lamb?
Lamb shoulder and lamb leg are always popular choices because they offer a lot of meat and are used in a variety of cuisines. The best cut of lamb for you could depend on several factors such as cooking methods, time, and how many people you are cooking for. Read our tips above to see which cut will suit you best and browse Drogo's Kitchen for recipes.
How can I store my lamb?
We sell fresh and frozen lamb products. When ordering fresh it is best to your lamb products within 1-2 days of arrival (keep in the fridge or marinate until you need it) or if you won't be using for a couple of days, you can freeze lamb for a maximum of three months. As always use your best judgement.
What is the best way to cook lamb?
Roasting is one of the most common ways to cook lamb, but you can also braise or slow-cook your lamb depending of which cut you're buying. There are plenty of ways to make the most of your lamb such as lamb stews, lamb tagine, lamb koftas, and you can always browse our recipes over on Drogo's Kitchen for more inspiration.
What is the cheapest cut of lamb?
We offer various cuts of lamb at different price points and weights, depending on your occasion. Typically offal tends to be cheaper and shoulder is another great option as it offers lots of meat.
Is lamb healthier than beef?
Lamb is a relatively lean meat and is packed with lots of great nutrients. Beef and lamb are both great protein options and have unique benefits
Lamb recipes from Drogo's Kitchen
These are some of our favourite ways to cook lamb! Click the picture for the recipe.
Noisette of Lamb with Spinach Dressed Potatoes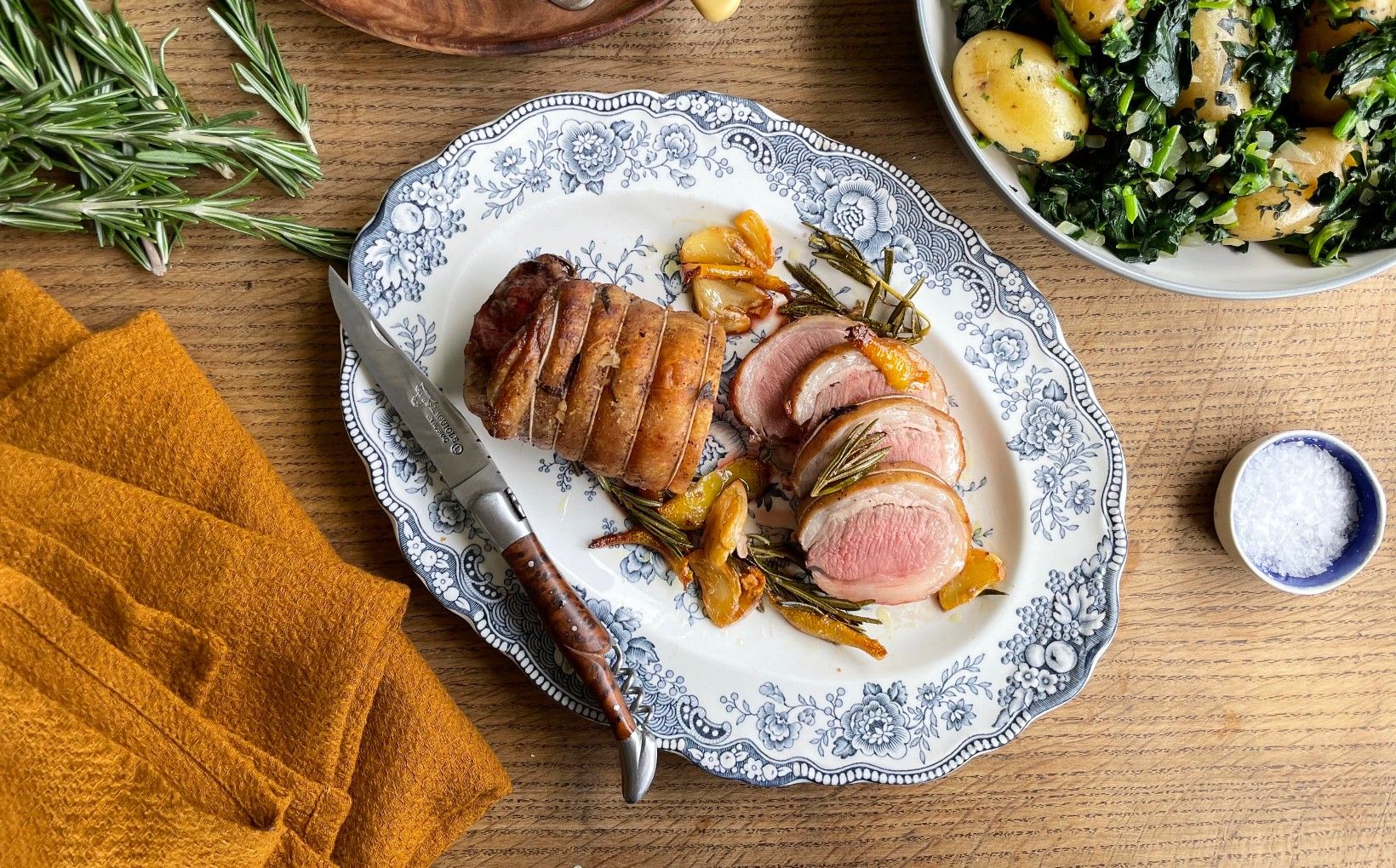 Slow Cooked Lamb Shoulder in Pomegranate Molasses with Saffron Rice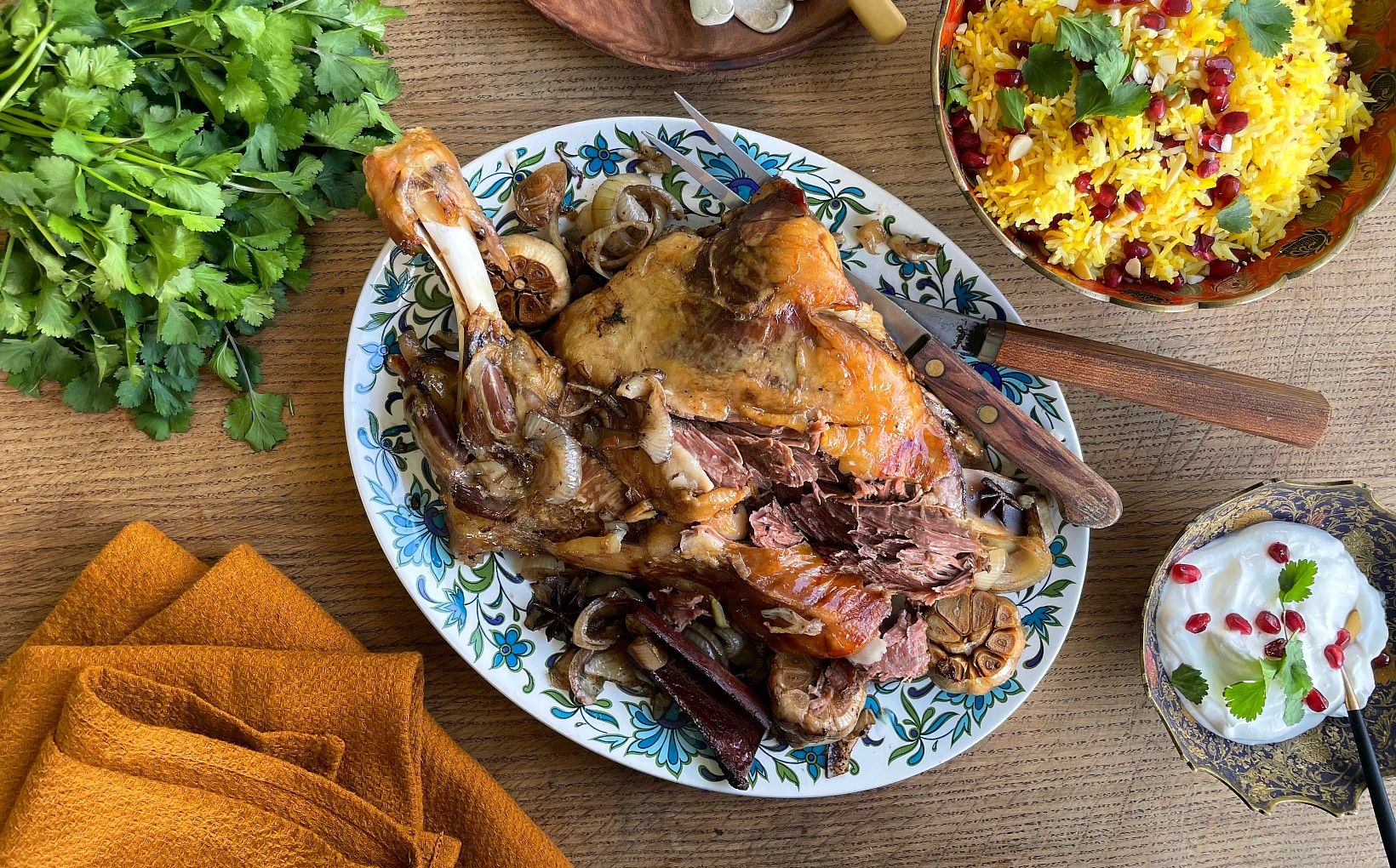 Explore our site now...
Browse our fantastic selection of lamb and take a look at Drogo's Kitchen for even more recipes and cooking advice. If you try out any of our ingredients or recipes please do tag us on social media! We love to see what you create.
Instagram | Facebook | Twitter | Pinterest | YouTube